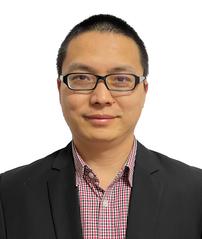 Brief CV
Research Interests
Courses
Services to External Academic Communities
Publications
Lab Introduction
Brief CV:
Dr. Luo is a Tenure-track Assistant Professor and Principal Investigator (PI) at the School of Biomedical Engineering in ShanghaiTech University. He is the Director of the Molecular Imaging and Radiopharmaceutical (MIR) Lab. Dr. Luo earned his Ph.D. in Organic/Pharmaceutical Chemistry from the School of Pharmacy at Sun Yat-sen University. He finished his postdoctoral research at Washington University in St. Louis, and subsequently served as a Core Research Scientist at the university's Cyclotron Research Center.
During his research career, Dr. Luo has primarily focused on the development and application of PET molecular imaging techniques for central nervous system diseases and tumors. He has accumulated extensive research experience in PET probe design, radiolabeling, in vitro and in vivo activity evaluation, and the use of PET imaging in drug development. He has published over 50 high-quality articles and abstracts in relevant field with more than 1000 citations. In 2021, he joined ShanghaiTech University and was selected as part of the Shanghai High-level Overseas Talent Program. He is currently leading a National Natural Science Foundation of China (NSFC) project for young researchers.
Research Interests:
Development of novel small molecule and peptide PET molecular probe drugs for early imaging diagnosis of neurodegenerative diseases such as AD, PD, MS, as well as tumors

PET imaging guided drug development, assessing drug pharmacokinetics and pharmacodynamics

Artificial intelligence for the design of PET molecular probes
Courses:
《Molecular Imaging》
《Anatomy in Diagnostic Imaging》
Services to External Academic Communities:
Reviewer for journals:
ACS Chemical Neuroscience
Bioorganic Medicinal Chemistry (Reviewer with Distinction,2016,2017)
Brain Science
ChemistrySelect
Molecules
International Journal of Molecular Sciences
Symmetry
Associated Editors for Frontiers in Organic Chemistry (specialty section of Frontiers in Chemistry)
Young Associated Editors for iRadiology
Publications:
Luo Z, Liang Q, Liu H, Sumit J, Jiang H, Klein RS, Tu Z. Synthesis and characterization of [125I]TZ6544, a promising radioligand for investigating sphingosine-1-phosphate receptor 2. Nucl Med Biol. 2020 Jul 27;88-89:52-61. doi: 10.1016/j.nucmedbio.2020.07.007. Epub ahead of print. PMID: 32791475.

Luo Z, Gu J, Dennett RC, Gaehle GG, Perlmutter JS, Chen DL, Benzinger TLS, Tu Z. Automated production of a sphingosine-1 phosphate receptor 1 (S1P1) PET radiopharmaceutical [11C]CS1P1 for human use. Appl Radiat Isot. 2019 Oct;152:30-36. doi: 10.1016/j.apradiso.2019.06.029. Epub 2019 Jun 20. PMID: 31280104; PMCID: PMC6708718.

Luo Z, Han J, Liu H, Rosenberg AJ, Chen DL, Gropler RJ, Perlmutter JS, Tu Z. Syntheses and in vitro biological evaluation of S1PR1 ligands and PET studies of four F-18 labeled radiotracers in the brain of nonhuman primates. Org Biomol Chem. 2018 Dec 5;16(47):9171-9184. doi: 10.1039/c8ob02609b. PMID: 30462126; PMCID: PMC6561338.

Luo Z, Liu H, Jin H, Gu J, Yu Y, Kaneshige K, Perlmutter JS, Parsons SM, Tu Z. Exploration of Sulfur-Containing Analogues for Imaging Vesicular Acetylcholine Transporter in the Brain. ChemMedChem. 2018 Sep 19;13(18):1978-1987. doi: 10.1002/cmdc.201800411. Epub 2018 Aug 19. PMID: 30071131; PMCID: PMC6422167.

Luo Z, Rosenberg AJ, Liu H, Han J, Tu Z. Syntheses and in vitro evaluation of new S1PR1 compounds and initial evaluation of a lead F-18 radiotracer in rodents. Eur J Med Chem. 2018 Apr 25;150:796-808. doi: 10.1016/j.ejmech.2018.03.035. Epub 2018 Mar 14. PMID: 29604582; PMCID: PMC5908474.

Luo Z, Sheng J, Sun Y, Lu C, Yan J, Liu A, Luo HB, Huang L, Li X. Synthesis and evaluation of multi-target-directed ligands against Alzheimer's disease based on the fusion of donepezil and ebselen. J Med Chem. 2013 Nov 27;56(22):9089-99. doi: 10.1021/jm401047q. Epub 2013 Nov 12. PMID: 24160297.
https://pubmed.ncbi.nlm.nih.gov/?term=%22Zonghua+Luo%22&sort=date
Lab Introduction:
Molecular Imaging Probes Lab (MIPS-LAB) is dedicated to the development of radiopharmaceutical molecular probes and research in animal in vivo imaging. This interdisciplinary research encompasses fields such as organic chemistry, medicinal chemistry, radiopharmaceutical chemistry, molecular biology, pharmacology, and molecular imaging.
MIPS-LAB primarily focuses research on the following areas:
Development of PET molecular imaging techniques for CNS diseases and tumors

Application of PET molecular imaging in drug development, target discovery, pharmacological assessment, and pharmacokinetics

Artificial intelligence-based design of PET molecular probes