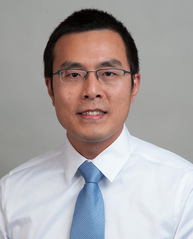 Brief CV
Research Interests
Courses
Services to External Academic Communities
Publications
Lab Introduction
个人简历:
Dr. Peng Hu is a Professor with Tenure and Executive Dean of the School of Biomedical Engineering, and Director of the Magnetic Resonance-Guided Cardiovascular and Cancer Therapy Research Laboratory. Dr. Hu received his B.S. and M.S. degree from Tsinghua University and his Ph.D. from the University of Virginia. He finished his post-doctoral training at Harvard Medical School. Before joining ShanghaiTech University, Dr. Hu was Tenured Full Professor in the Departments of Radiology and Bioengineering at UCLA. Dr. Hu is interested in MRI for cardiovascular disease, MRI-guided cancer radiotherapy, and fast/ real-time MRI. Dr. Peng Hu is a world-renowned scholar in the field of cardiac magnetic resonance. A number of techniques invented by his laboratory have been widely adopted and have become gold standard in clinical practices around the world, and some of his works have been recognized as among the most important works in the field of cardiac imaging in the past century by respected journals such as Radiology. Dr. Hu has published more than 100 papers in top journals of the medical imaging field and more than 200 conference abstracts in top conferences such as ISMRM. He has served as PI for numerous research projects of the National Institutes of Health in the United States. His research has resulted in 12 US patents and 1 Chinese patent, several of which have been commercialized. He currently serves on the editorial boards and reviewer for >20 journals.
研究领域:
Cardiovascular MRI Technology Development and Clinical Applications

MRI Guided Radiation Therapy

Application of AI in MRI Data Acquisition and Image Reconstruction
教学与课程:
学术任职:
Board of Trustees, Overseas Chinese Society of Magnetic Resonance in Medicine

Editorial Board, Journal of Cardiovascular Magnetic Resonance

Editorial Board, Medical Physics

ISMRM Annual Meeting Program Committee (2018-2021)

ISMRM Committee on Working Groups and Workshops (2022-2025)

ISMRM Committee on Standards in Quantitative MR (2013-2016)
实验室介绍:
Magnetic Resonance-Guided Cardiovascular and Cancer Therapy Research Laboratory
The research directions of the laboratory:
The development and application cardiovascular magnetic resonance imaging technology: quantitative myocardial tissue imaging, cardiac blood oxygen and perfusion imaging, blood vessel and vessel wall imaging, application of imaging for cardiac arrhythmias;

MRI-guided tumor radiation therapy technology: real-time imaging, diffusion imaging, perfusion imaging, tumor blood oxygen imaging, imaging-based tumor treatment response assessment;

Application of artificial intelligence in magnetic resonance: imaging reconstruction, optimization of magnetic resonance scanning process.